The houses of the Ocean face the beach of Kerhillio in Erdeven in the Morbihan at the entrance of the peninsula of Quiberon. They are separated from the sea by the sand dunes. Ideally located facing the dunes with a full view of the ocean, they have a three-star-vacation ranking.
The Sentier de l'ocean is a sand trail, used by pedestrians, bicycles and horses. It connects the Kerhillio Beach to Erdeven.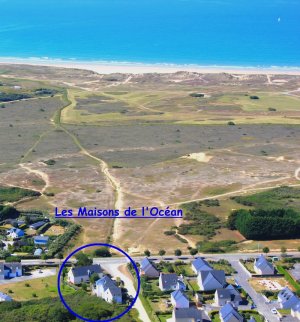 Access on foot to the Beach of Kerhillio to 700 meters approximately by the dunes: beach of fine sand ideal for the swimming and the walks.
Each cottage or house has its own private parking on the property.
Geographical coordinates: GPS 47.615655 3.154298 or 47 ° 36 '56' 'N - 3 ° 09' 15 '' W